January 2010
February 2010
March 2010
April 2010
May 2010
June 2010
July 2010
August 2010
September 2010
October 2010
November 2010
December 2010
January 2011
February 2011


Need to contact us quickly? Send us an email by Clicking Here.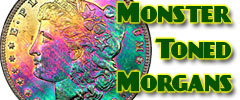 View the largest gallery of high-end and Monster rainbow toned Morgan dollars, an informational guide on how to tell natural vs. artificial toning, learn to price toned Morgans, view auction results of rainbow Morgans, and view what characteristics to look for in high-end toned rainbow Morgan dollars.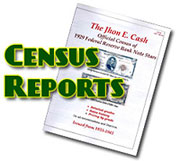 Lost? Find your way with the sitemap with links to all the pages on this website. Sitemap



Here you can find interesting articles, videos, and research tools for coins and currency. We are constantly adding more links and articles to enlighten collectors. Click Here


Click here for a how-to guide for JhonECash.com. The site is very user friendly and you may not even need to use this page but if you do, it's right here waiting for you.


Click Here for answers to ALL of your questions regarding Payment, Shipping, How to Order, How to Use the Website, and More...





5/1/2018 - Chicago Central States Currency ShowDallas--Well we just got back from the Central States show held in Schaumburg, Il, which is just a tad bit outside of wild Chicago. The show was held at the very nice Renaissance Hotel from April 24th to the 28th, 2018. There were two currency auctions held by Heritage Auctions. One was Platinum Night which is where Heritage offers and sells most of its high end notes. The other auction was a continuation of the C. R. Chambers collection of US large size notes. You may remember that Kagins sold C. R. Chambers FRN and FRBNs notes at the Dallas ANA show back in early March of 2018. Carlton Chambers had quite a large and nice collection of US notes that he assembled over a 40 year period.
Mr Chambers was a brilliant and well respected researcher and author of US currency, among other things. I have known Carlton for almost 20 years and he has helped me many time on my upcoming book. However I would advise you to never to ask him a question unless you had a lot of spare time to listen because, he loved to talk and talk and talk.
Anyway, I really enjoyed the show because I had time to actually visit with some of my favorite coin and currency dealers.
Of the 40 or 50 dealers I spoke with the consensus was that it was very successful as far as sales went. The floor activity seemed quite busy most of the the two days I attended. We were only there for Thursday and Friday because we had to fly out early Saturday morning to deliver a $10,000 bill I picked up at the show.
The two auctions I attended were packed with people and the phone bids were plentiful. there was some nice high graded material available at the Platinum sale and the prices realized were strong. I did manage to pick up about 15 notes of some real nice large size notes for a decent price. I will try to get them on the site within about 10 days or so.
Early Saturday morning we took a short flight out of Chicago OHare to Cedar Rapids Iowa to visit a new client. I was shocked how pleasant and polite that the folks from Iowa were. The airport was stuck way the heck out in the middle of a cow pasture. Are the people there referred to as Iowans or Iowanians? Anyway a new friend picked us up at the tiny airport and he and his beautiful computer savy wife drove us through the many Fields of Dreams to a small Amish community called Sigourney Iowa. It was a beautiful quaint little town surrounded by thousands of small farms with no visible crops. On the drive to and from the airport, Mike our gracious host did give up a lesson on farming. I guess it was planting time because we didnt see any crops a growing. We did have a most wonderful time visiting with them. I would love to go back there and spend more time visiting the entire state of beautiful Iowa. Early Sunday morning they drove us back to the Cedar Rapids community airport and we boarded a small jet engined airport and we flew back to Big D in Texas.
I will give everyone a more detailed Currency report in about 3 weeks. I know we have a lot of shows coming up soon. I will say this, the currency market is very healthy and strong, especially the $5,000 and $10,000 market.
later amigos,
Jhon E Cash


5/1/2018 - 5/1/2018 - Chicago Central States Currency ShowDallas--Well we just got back from the Central States show held in Schaumburg, Il, which is just a tad bit outside of wild Chicago. The show was held at the very nice Renaissance Hotel from April 24th to the 28th, 2018. There were two currency auctions held by Heritage Auctions. One was Platinum Night which is where Heritage offers and sells most of its high end notes. The other auction was a continuation of the C. R. Chambers collection of US large size notes. You may remember that Kagins sold C. R. Chambers FRN and FRBNs notes at the Dallas ANA show back in early March of 2018. Carlton Chambers had quite a large and nice collection of US notes that he assembled over a 40 year period. Mr Chambers was a brilliant and well respected researcher and author of US currency, among other things. I have known Carlton for almost 20 years and he has helped me many time on my upcoming book. However I would advise you to never to ask him a question unless you had a lot of spare time to listen because, he loved to talk and talk and talk. Anyway, I really enjoyed the show because I had time to actually visit with some of my favorite coin and currency dealers. Of the 40 or 50 dealers I spoke with the consensus was that it was very successful as far as sales went. The floor activity seemed quite busy most of the the two days I attended. We were only there for Thursday and Friday because we had to fly out early Saturday morning to deliver a $10,000 bill I picked up at the show. The two auctions I attended were packed with people and the phone bids were plentiful. there was some nice high graded material available at the Platinum sale and the prices realized were strong. I did manage to pick up about 15 notes of some real nice large size notes for a decent price. I will try to get them on the site within about 10 days or so. Early Saturday morning we took a short flight out of Chicago OHare to Cedar Rapids Iowa to visit a new client. I was shocked how pleasant and polite that the folks from Iowa were. The airport was stuck way the heck out in the middle of a cow pasture. Are the people there referred to as Iowans or Iowanians? Anyway a new friend picked us up at the tiny airport and he and his beautiful computer savy wife drove us through the many Fields of Dreams to a small Amish community called Sigourney Iowa. It was a beautiful quaint little town surrounded by thousands of small farms with no visible crops. On the drive to and from the airport, Mike our gracious host did give up a lesson on farming. I guess it was planting time because we didnt see any crops a growing. We did have a most wonderful time visiting with them. I would love to go back there and spend more time visiting the entire state of beautiful Iowa. Early Sunday morning they drove us back to the Cedar Rapids community airport and we boarded a small jet engined airport and we flew back to Big D in Texas. I will give everyone a more detailed Currency report in about 3 weeks. I know we have a lot of shows coming up soon. I will say this, the currency market is very healthy and strong, especially the $5,000 and $10,000 market. Later amigos, Jhon E Cash