Need to contact us quickly? Send us an email by Clicking Here.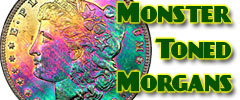 View the largest gallery of high-end and Monster rainbow toned Morgan dollars, an informational guide on how to tell natural vs. artificial toning, learn to price toned Morgans, view auction results of rainbow Morgans, and view what characteristics to look for in high-end toned rainbow Morgan dollars.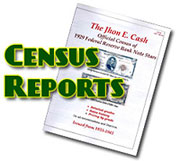 Lost? Find your way with the sitemap with links to all the pages on this website. Sitemap



Here you can find interesting articles, videos, and research tools for coins and currency. We are constantly adding more links and articles to enlighten collectors. Click Here


Click here for a how-to guide for JhonECash.com. The site is very user friendly and you may not even need to use this page but if you do, it's right here waiting for you.


Click Here for answers to ALL of your questions regarding Payment, Shipping, How to Order, How to Use the Website, and More...






1. What methods of payment do you accept?
Jhon E Cash accepts the following methods of payment:
US Cash

US Personal checks

US Company checks

US Postal Checks

We accept PayPal accepted credit cards through our website and our EBay storefront. However we only ship to PayPal confirmed addresses per EBay and PayPal rules. We sometimes accept PayPal at shows when we have the connective availability. Fees may apply.

Bank wires or wire transfers from US Banks and in US Dollars only. All funds on all methods of payment must clear our bank before shipping any product unless pre approved.
Jhon E Cash does not accept the following methods of payment:
Foreign Currency or Funds from foreign Banks unless approved in advance

CODs or commonly referred to collect on Delivery.

Any type of third party checks.

Blank checks or checks without a printed Bank name and address.

No temporary checks.

No NET terms of any kind unless pre approved.

No postdated checks unless approved in advance.

2. Shipping rates, dates, insurance and methods
Methods of shipping: Jhon E Cash uses the United States Postal Service, herein referred to as USPS as its preferred method of shipping. All Express mail packages are delivered overnight with a signature required. If the client chooses to have their product shipped in any other method, it will be at their expense and their responsibility in case of lost packages. Jhon E Cash will ship other methods at clients request and expense. We currently only ship in the United States.
Shipping Dates: Jhon E Cash ships Monday through Thursday only, Holidays excluded.. The reason we choose not to ship on Fridays is because I dont like the product floating around the country over a weekend. The less time and people touching the package, the less room for errors.
Shipping Rates: There will be varying shipping rates as we occasionally offer free or reduced shipping rates during special promotions. You will see a special link on the Home Page for promotional sales and or special rates. Express Mail rates are currently $18.50 for packages under 12 ounces. Additional weight rates then apply. Our rates are designed to accurately reflect the shipping and insurance rates of the USPS and nominal expenses for packaging materials that ensure your package arrives quickly and safely. Since the USPS does not cover Express mail packages over $5,000 we utilize third party insurance to cover these packages currently at a rate of $0.50c per $100.
Shipping Rates:


$0 - $500
Priority Mail
$10.95

---

$501 and up
Express Mail
$20.00

---
Insurance Rates:


$0 - $500
Priority Mail
$1.05 per $100

---

$501 - $5000
Express Mail
$1.45 per $500

---

$5001 - $24,999
Express Mail
$0.50c per $100

---

$25,000 and up
Express Mail
Call for Rates

---

3. What is your Return and Refund Policy?
Jhon E Cash strives to insure that each and every client has a pleasant experience while visiting or shopping on our website. We guarantee 100% that each our items are totally original and authentic as described. We want you to be 100% happy and satisfied with your purchases from us. That is why Jhon E Cash offers a 10-day no hassle return policy on all of our Coins and Currency. To insure that your refund or exchange is expedient, there are there are several steps that must be done to receive proper refund. They are as follows:
Clients must first obtain an authorized Return Merchandise Authorization RMA) number from Jhon E Cash LTD prior to shipping items back to Jhon E Cash. The RMA number must be written on outside of package. If No RMA number is issued on a returned item, a restocking fee will apply.
All returned items must be received at our office not later than ten (10) from date of original shipping to client.
All returned items must be returned USPS Express with signature required and fully insured.
All returned items must be properly packaged and received in identical condition as they were originally shipped.
Return freight on returned items is the responsible of the shipping party.
Jhon E cash does not accept responsible of lost items and any and all appropriate forms must be completed by shipping party.
Once the item is accepted and properly received, a refund check will be mailed within three business days.
All purchases at trade shows are final and non-refundable as the customer has an opportunity to view the product before purchase.
Any client or dealer, who offers for sale any item purchased from Jhon E Cash within in the 10-day return period, will lose their return privileges. This prevents un-savvy people from purchasing an item from us and trying to resell it within the 10-day return period if it does not sale. This will not be tolerated.

4. Does Jhon E Cash Offer a Layaway Program?
Yes! Jhon E Cash does offer qualified clients a 60-day interest free layaway program. The payments are divided into three one-third equal payments as follows:
The first one third of the total amount is due, including freight and insurance at the time of invoice date.
The second one third payment of the total amount must arrive at our office no later than the 30th day from original invoice date.
The final one third and final payment must arrive at our office no later than the 60th day from the original invoice date.
The total amount of the Layaway may be paid off at any time during this agreement without incurring any fees.
All products will remain the property of Jhon E Cash until the product on layaway is paid in full and funds have cleared our bank.
After the final payment has cleared our bank, the item or items will be shipped to the client via United States Post Office (USPS) Express mail only, signature required. All freight and insurance will be included in the layaway program.

5. What if I decide to cancel my Layaway Contract?
Jhon E Cash offers a 10-day Grace Period for clients who use the layaway program and for any reason they changes their mind and no longer want the product. They must contact Jhon E Cash in writing within the10-days from original invoice date; Jhon E Cash will refund the full amount of the original deposit, less a $25 administrative fee within seven business days after the initial funds have cleared out bank. However, Jhon E Cash MUST be notified in writing via fax or email of their intent within the 10-day grace period. Phone calls and text messages are not accepted as an official notification.
After the 10-day grace period has passed, there will be a restocking fee as listed:
From the 11th day to the 30th day there is a 15% of the total purchase price, less freight and insurance for cancellations from the
From the 31st day to the 60th day from the original invoice date there is a 20% restocking fee of the total purchase price less freight and insurance.
After the 60th day there will be a 25% restocking fee of the total purchase price less any freight and insurance
If any of the due dates falls on a Saturday or Sunday, then the following Monday will be acceptable without incurring any fees. If any of the due dates fall on a recognized National Holiday then following business day will be acceptable without incurring any fees.
Any cancellation fees will be deducted from any paid amounts and a refund check will be issued for the remaining amount within seven business days.

6. Are there any late payment fees on the Layaway Option?
Jhon E Cash realizes that certain circumstances happen from time to time, so we have implemented the following:
If a client misses a payment date by no more than two days total during the 60-day Layaway Purchase Agreement, Jhon E Cash, at its sole discretion may forgo any late payment fees.
If a client misses scheduled payments by more than the two discretion days during the entire contract, there will be a $25 per day late fee up to 6 additional late days. After the 6 additional late days Jhon E Cash will consider the Layaway in default and deduct any incurred fees and refund the remaining balance.
Any late payments fees or other incurred fees must be paid in full before the product will be shipped to client.

7. What Third-Party Grading Companies do you use?
Jhon E Cash sells both Currency and Coins, therefore some of the third-party grading services will overlap.
Currency: In the past years, Jhon E Cash has sold currency notes in almost every type of third-party grading known. As times have changes so has the third-party grading environment. Jhon E Cash currently recommends two third-party grading services. They are Paper Money Guarantee (PMG) out of Sarasota, Florida and Professional Currency Grading Service (PCGS) out of Peoria, Illinois. Although there are several other reputable third-party grading services, PMG and PCGS are the largest and the most requested third-party grading services by almost all our clients. Both companies are highly respected in the currency industry. Although Jhon E Cash is an authorized Dealer for both grading services,, you will find links to both of their websites on our home page for further information on their policies and prices.
Coins: PCGS and NGC certified coins are our main business. We will occasionally sell raw coins but not very often. When we certify coins, we almost always go to either PCGS or NGC. Occasionally, we will handle ANACS if we deem the coins acceptable.