Need to contact us quickly? Send us an email by Clicking Here.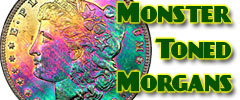 View the largest gallery of high-end and Monster rainbow toned Morgan dollars, an informational guide on how to tell natural vs. artificial toning, learn to price toned Morgans, view auction results of rainbow Morgans, and view what characteristics to look for in high-end toned rainbow Morgan dollars.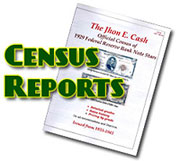 Lost? Find your way with the sitemap with links to all the pages on this website. Sitemap



Here you can find interesting articles, videos, and research tools for coins and currency. We are constantly adding more links and articles to enlighten collectors. Click Here


Click here for a how-to guide for JhonECash.com. The site is very user friendly and you may not even need to use this page but if you do, it's right here waiting for you.


Click Here for answers to ALL of your questions regarding Payment, Shipping, How to Order, How to Use the Website, and More...




Terms and Conditions
Shipping and Insurance Policies for Currency and Coins:
All currency notes and coins will be shipped to clients via United States Postal Service Express Mail or Priority Mail, with signature confirmation only, regardless of value. A signature will be always required.
Freight charges:
· USPS Express Freight charges are from $18.50 to $22.00 per package if it fits into a USPS Express envelope or box.
· USPS Priority Freight with signature confirmation charges is $9.00 per package if it fits into a Small Priority box. We ship small box in a medium box.
Insurance Rates: Our private carrier insurance rate is $4 up to $999 plus .75 per $500 insurance over $1,000. This is in addition to the freight you choose.
If a client wishes to use their own freight company then they will be required to sign shipping and insurance wavier stating that Jhon E Cash, its officers or employees will not be liable for any lost or damaged packages. Client will be responsible for any and all claims of lost or damaged product with their carrier. Jhon E cash will only provide proof of shipping.
Third Party Grading
Jhon E Cash does not guarantee or warrantee any grading company's certifications. All grades assigned to coins or currency is the opinion of the respective third party grading service. See their certification guarantees or policies on their respective websites. A link to their website has been provided for your convenience. Our relationship with the grading services allows us to assist our clients with any issues that may arise.