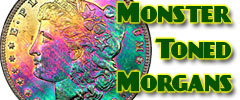 View the largest gallery of high-end and Monster rainbow toned Morgan dollars, an informational guide on how to tell natural vs. artificial toning, learn to price toned Morgans, view auction results of rainbow Morgans, and view what characteristics to look for in high-end toned rainbow Morgan dollars.


Need to contact us quickly? Send us an email by Clicking Here.


Click Here to view all of the coins that we've sold since the website was launched in January 2010.

Comprehensive List of Numismatic Reference Guides




NGC - Numismatic Guaranty Corporation is based out of Sarasota Florida and is one of the top 2 grading companies for US Coins, Patterns, and Medals. It is one of the two preferred grading companies by jhonecash.com.
PCGS - Professional Coin Grading Service is based out of Newport Beach, CA and is one of the top 2 grading companies for US Coins, Patterns, and Medals. It is one of the two preferred grading companies by jhonecash.com.
US Mint - The US Mint is where you can get information regarding modern US coins and can order directly from the US Mint.
Collectors Universe Coin Forum - This is the pulse of the Numismatic market. Join and interact with tens of thousands of other collectors and dealers.
American Numismatic Association - The ANA was started in 1891 and is focused on providing collectors with information and advancing the numismatic knowledge of the collecting community.

High-End and Monster Toned Morgan Dollar Gallery
Back to Top
"Forest Fire"
1881-S $1 PCGS MS63
$2,150
"Southern Cross"
1883-O $1 PCGS MS65 CAC
$3,750
"Aura"
1886 $1 NGC MS64* STAR CAC
$1,650

---

"Darth Verde"
1885 $1 NGC MS65
$2,450
"Wild Endroller Twin Pair from the Same Roll"
1884-O $1 NGC MS64* STARS
$3,000 (pair)

---

"Textile Summer"
1885-O $1 NGC MS65* STAR
$3,000
"Rainbow Tide"
1882-S $1 NGC MS67* STAR
NOT AVAILABLE
"Irish Rainbow"
1885-O $1 NGC MS66* STAR
NOT AVAILABLE

---

"St. Elmo's Fire"
1883-O $1 NGC MS64
NOT AVAILABLE
"Evil Sister"
1884-O $1 PCGS MS64
NOT AVAILABLE
"Pink Princess"
1880-S $1 PCGS MS66 (ICG 67)
NOT AVAILABLE

---

"Green Goblin"
1881-S $1 NGC MS64
NOT AVAILABLE
"Lizard Mirrors"
1882-S $1 NGC MS66
NOT AVAILABLE
"Greengenta"
1882-S $1 NGC MS66
NOT AVAILABLE

---

"Magma"
1884-O $1 NGC MS65*
NOT AVAILABLE
"Supernova"
1896 $1 NGC MS65*
NOT AVAILABLE
"Blushing Volcano"
1881-S $1 NGC MS66*
NOT AVAILABLE

---

"Barbie"
1888 $1 ANACS MS63
NOT AVAILABLE
"Arctic Endroller"
1886 $1 NGC MS67
NOT AVAILABLE
"Tex-Mex"
1885-O $1 PCGS MS64 CAC
NOT AVAILABLE

---

"Blue Suede Superb Gem"
1885 $1 NGC MS67
NOT AVAILABLE
"Oasis"
1886 $1 NGC MS64* STAR
NOT AVAILABLE
"Icy Perfection"
1881-S $1 NGC MS67* STAR
NOT AVAILABLE

---

"Beauty Mark"
1881-S $1 PCGS MS65
NOT AVAILABLE
"Rainbow Flow"
1886 $1 NGC MS65
NOT AVAILABLE
"Nightshade"
1881-S $1 PCGS MS65
NOT AVAILABLE

---

"Rocky"
Capital Plastics Holder MS64
NOT AVAILABLE
"Bluegill"
1885 $1 NGC (0ld) MS65
NOT AVAILABLE
"Hibiscus"
1881-S $1 PCGS MS63
NOT AVAILABLE

---

"Salamander"
1882-S $1 (Old) NGC MS67 CAC
NOT AVAILABLE
"Marmalade Mirrors"
1881-S $1 PCGS MS64+
NOT AVAILABLE
"Annabel Lee"
1881-S $1 PCGS MS66
NOT AVAILABLE

---

"Spring Fling"
1886 $1 PCGS MS66
NOT AVAILABLE
"Dayo"
1885 $1 NGC MS65
NOT AVAILABLE
"Kool-Aid"
1883-O $1 ICG MS65
NOT AVAILABLE

---

"Green Ghost"
1880-S $1 PCGS MS65
NOT AVAILABLE
"Deep Ellum"
1886 $1 NGC MS63* STAR
NOT AVAILABLE
"Shockwave"
1886 $1 NGC MS64* STAR
NOT AVAILABLE

---

"Medusa"
1881-S $1 PCGS MS66 CAC
NOT AVAILABLE
"Twilight"
1881-S $1 NGC MS66* STAR
NOT AVAILABLE
"Green Flash"
1881-S $1 PCGS MS65
NOT AVAILABLE

---

"Lofty Rainbow"
1881-S $1 PCGS MS68 CAC
NOT AVAILABLE
"Springtime"
1885-O $1 NGC MS63* STAR
NOT AVAILABLE
"Texas Tea"
1881-S $1 NGC MS66* STAR CAC
NOT AVAILABLE

---

"California Sunshine"
1887 $1 NGC MS65* STAR
NOT AVAILABLE
"Blueberry Monster"
1885-O $1 NGC MS65 CAC
NOT AVAILABLE
"Midnight Carnival"
1882-S $1 PCGS MS66 CAC
NOT AVAILABLE

---

"Deep River"
1882-S $1 PCGS MS65 - CAC
NOT AVAILABLE
"Hopi Jewel"
1887 $1 NGC MS65* STAR CAC
NOT AVAILABLE
"Watermelon Burst"
1884-O NGC MS64* STAR - CAC
NOT AVAILABLE

---

"Black Magic"
1881-S $1 NGC MS66* STAR
NOT AVAILABLE
"Green Hornet"
1881-S $1 NGC MS65
NOT AVAILABLE
"Emerald City"
1881-S $1 NGC MS66* STAR
NOT AVAILABLE

---

"Green Meanie"
1881-S $1 NGC MS65
NOT AVAILABLE
"Golden Freckles"
1884 $1 PCGS MS63
NOT AVAILABLE
"Mauve Freckles"
1885 $1 NGC MS64
NOT AVAILABLE

---

"Christmas Tree"
1880-S $1 NGC MS66* STAR
NOT AVAILABLE
"Black Mamba"
1880-S $1 NGC MS66* STAR
NOT AVAILABLE
"Chili Pepper"
1881-S $1 NGC MS66* STAR
NOT AVAILABLE

---

"Electric Rain"
1885-O $1 NGC MS64* STAR
NOT AVAILABLE

"Santeria"
1881-S $1 PCGS MS65
NOT AVAILABLE
"Lightning Bolt"
1881-S $1 NGC MS65* STAR PL
NOT AVAILABLE

---

"Scrunchie"
1882-S $1 NGC MS67* STAR
NOT AVAILABLE
"Black Opal"
1881-S $1 PCGS MS65+ CAC
NOT AVAILABLE
"Mayan Jewel"
1881-S $1 PCGS MS64
NOT AVAILABLE

---

"Pop Monster"
1881-S $1 NGC MS66* STAR
NOT AVAILABLE
"Wicked"
1881-S $1 PCGS MS66 CAC
NOT AVAILABLE
"Textile Fire"
1884-O $1 PCGS MS65 CAC
NOT AVAILABLE

---

"Sunshine"
1887 $1 PCGS MS65
NOT AVAILABLE
"Double Trouble"
1881-S $1 PCGS MS66
NOT AVAILABLE
"Forest Fire"
1881-S $1 PCGS MS63
NOT AVAILABLE

---

"Almost There"
1887 $1 PCGS MS64
NOT AVAILABLE
"The Moose"
1881-S $1 PCGS MS68
NOT AVAILABLE
"Nuclear Meltdown"
1887 $1 NGC MS65* STAR
NOT AVAILABLE

---

Rarity of Monster Toned Morgan Dollars
Back to Top

The rarity of true monster toned Morgan dollars cannot be stressed enough. Out of the 656,900,590 Morgan dollars that were produced from 1878 through 1921, there are probably in the ballpark of about 10,000 "Rainbow Morgan dollars". This quantity represents any morgan with even the slightest amount of rainbow color. The battlecreek collection alone had something like 1,400 but the vast majority were just slivers of thin crescents. NGC nevertheless still put a star on them, which in my opinion, cheapened the value of the STAR * designation.

Out of the 10,000 or so "Rainbow Morgans" about 75% (7,500) of them are not even close to being considered monsters. Out of the remaining 2,500, about 75% of those morgans (1,875), is where we get into the Rainbow Morgan dollars that are actually attractive but many may have something hampering the eye appeal of the coin keeping it from being a monster. I will go through in detail these characteristics. Many people buy coins in this range believing they are the most beautiful coins they have ever seen. The problem is, they have not seen the remaining 625 morgans out of the original 656 Million + mintage of morgans that serve as a benchmark for monster and near-monster morgans. Out of that 625 that are incredibly attractive, only about 200 of them would qualify as a Monster toned Morgan.

It is all subjective of course but auction prices don't lie, and the top 200 are universally agreed upon as the most stunning Toned Morgan Dollars in existence. The table below is just based on my observations of handling high-end toned coins and Morgan dollars but if anyone has any better estimations or reasons why my estimations might be incorrect, I would implore them to contact me. brandon@jhonecash.com


| | |
| --- | --- |
| 656,900,590 | Total Mintage of Morgan Dollars 1878-1921 |
| 10,000 (.000015%) | Estimation of Toned Morgans in Existence |
| 7,500 (.0000114%) | Estimation of Low-End Toned Morgans in Existence |
| 1,875 (.0000028%) | Estimation of Medium Toned Morgans in Existence |
| 625 (.00000095%) | Estimation of High End Toned Morgans in Existence |
| 200 (.00000030%) | Estimation of Monster Toned Morgans in Existenc |

How Morgan Dollars Toned
Back to Top

The Morgan Silver Dollar, produced from 1878 until 1904 and again in 1921 were in heavy supply and many more were struck than were required for circulation. Therefore, many of the freshly struck examples were stored at the US Treasury in canvas bags until they were eventually released or sold to the public during the GSA (General Services Administration). Other hoards, including the Battle Creek and the Continental Bank Hoard produced many incredibly toned coins as well. These coins sat in canvas bags for nearly a century. During that time, the coins closest to the canvas of the bag or near the top of the bag were constantly bombarded by a minute concentration of sulfur. Sulfur was infused in the canvas bags in an attempt to reduce the damage caused by rats chewing on them. The silver reacted with the sulfur to form a thin film of silver-sulfide on the surface of the coins, which reflects and refracts the light so that we see the colors of the rainbow on the coins' surface. This phenomenon is known as thin-film interference. This is much different than "oxidation" which implies a reaction with oxygen. Silver-oxide presents itself as a grey haze. Now, depending on how thick the silver-sulfide film is, determines which colors are absorbed and which are reflected. That is how we get bands of rainbow color on many toned Morgans. A constant thickness of film on the surface produces monochromatic toning. The deeper the patina, or the thicker the film, reduces the amount of light reflected and increases the colors absorbed by the patina which is why the toning progression ends up with a terminal charcoal band. Now, not all toned Morgans were toned in canvas bags but the thin-film interference phenomenon is still in play.

Visual illustration of thin-film interference by Doug Kurz


Since the physics behind thin-film interference as it pertains to toned Morgans is quite extensive, please refer to this article authored by Doug Kurz (Sunnywood) and compiled by Brandon Kelley.

Wikipedia Article on thin-film interference

Some of the prooflike Morgan dollars were stored along with other proofs of the day and toned similarly such as "The Lightning Bolt". Others were put into the popular "Wayte Raymond" albums which had a high concentration of sulfur in the cardboard causing the coins to tone in "Target Patterns". This is because the sulfurous compounds were on the rims of the coin and the toning progressed inward. Others were stored in Kraft envelopes which also had concentrations of sulfur creating "Envelope Toned" examples with two sided toners that are simply spectacular and typically break some of the rules for naturally toned coins. This type of toning produced dual sided target patterns that resemble album toning and are usually accompanied with nasty haze. The sulfurous material in the envelopes surrounded the coin so the toning covers the entire coin.

The aforementioned toning methods for NT Morgans are the most commonly accepted. If a Toned Morgan dollar surfaces with strange toning and there is no way to validate how it toned that way, it is generally accepted that the toning may have been accelerated or artificially done. However, if a strangely toned Morgan dollar comes into the market with a history that is verifiable and answers the question of how the coin toned, it will be accepted as a naturally toned coin and is usually highly prized as a unique treasure by many collectors.

---

Types of Rainbow Toned Morgans


(Typical Color Progression of the Majority of Natural Bag Toned Morgan Dollars)


(Pastel Spectrum Toning Progression)


(Doug Kurz Rendition of Color Progression of Thin-Film Interference on Bag Toned Morgans)

Read more about Doug Kurz (Sunnywood's) Color Classification system in this outstanding article


Different parts of the color spectrum can be stretched and shortened depending on the conditions in which the Morgan dollar toned. Additionally, these colors can be either muted or fabulously vibrant depending on the surface type and thickness of the patina but all naturally toned Morgans follow this progression. Some examples can be deceiving because the color will appear to be missing a band between colors. Look closely to see if the missing color is just simply a super-thin band in that particular coin's spectrum. Check in the recessed areas such as the curls of the hair (if the area in question is over her hair) and see if the missing band is present in the nooks and crannies. Now, since the above pictured color bands come in all shapes, sizes, and vibrancies, I'll take the initiative to group the main types of Rainbow toned Morgans. Keep in mind that the emerald and burgundy bands in the spectrum tend to repeat before retreating into the terminal charcoal band. Notice that the pastel spectrum appears a mirror image of the beginning half of the regular spectrum. In Doug Kurz's model, the spectrum repeats in four cycles ending in a terminal cycle of violet and charcoal:

For more information about the toning spectrum of toned Morgans, refer to this article authored by Doug Kurz regarding an analysis of the spectrum cycles of toned Morgan dollars

Thin Film Interference Color Progression


(first cycle)


(second cycle)


(third cycle)


(fourth cycle)


(fifth/terminal cycle)

Doug Kurz's model is more advanced but reveals the tiny bands that sometimes are stretched out by the toning process and expanded across the coin like the intermingled with green in the third cycle which is seldom prominent.

Example of first to terminal cycle:

---

Example of the first cycle:

Example of the second cycle:

---

Example of the rare third cycle greens & yellows:

Example of fourth cycle:

---

Three Main Spectrum Groups

Pastel Spectrum




As you can see the array of colors is all from the earliest progressions of color as the Morgan begins to tone. These are also known as sunset colors or shades that are reminiscent of Easter or a tropical beach at sunset. Many of these examples display profound luster as the level of patina has not built up very thick. The deeper the layer of patina is on the surface, the deeper the spectrum of color displayed on the coin.

Neon Spectrum

This grouping of colors is neon in nature and the turquoise is an amalgam of both the blue and green spectrums. It was created by being close to the canvas bag where bands of blue floated across the neon green band giving it a blue/green or turqoise look. This is a VERY desirable portion of the spectrum and is typically very short on the majority of Rainbow Morgans. Finding examples of this spectrum with exceptional luster drives my passion for Toned Morgans. These coins stand out like headlights!

Black Spectrum

This spectrum color runs from upper right to lower left starting with a blue-green from the neon spectrum to the terminal "charcoal" color in the lower left. This is the antithesis of the neon spectrum. As the colors repeat while continuously deepen, they terminate in a deep charcoal color. This coin exhibits the black spectrum vividly. However, many black spectrum coins have pumpkin orange and a much longer spread of the entire spectrum present on the coin. PL examples are exceptionally desirable and beautiful.

---

Variations of the Three Spectrum Groups

Monochromatic

Just as the name implies, it is simply toned in just one single color. Try putting together a spectrum set of these babies.

Nearly Monochromatic

When a coin is nearly monochromatic, it is nearly completely toned in one color but may have other colors present.

Rim Toned

This type of toning is created from being either in an album or in a holder with impurities that reacted with the silver in the Morgan.

---

Crescent

The crescent shape is from a coin stacked partially on the toned Morgan as it toned in the canvas bag. A Morgan dollar sat partially over the surface of this coin as it toned in the canvas bag. This is the most common type of Toned Morgan dollar.

Multiple-Crescent

The coin toned in a canvas bag with a coin stacked over it. The coin over it then shifted and the coin continued to tone with a different crescent. Some multiple crescents result from different coins covering different areas with no shifting occurring.

Greenie

The right humidity levels and amount of time in a canvas bag created a certain green spectrum of Morgans that share this similar look. There are enough of these around for me to consider them as a particular grouping. All are desirable.

---

Banded Rainbow

The second most common type of Rainbow Morgans have a band of rainbow colors that resulted from the coin being tilted while it toned allowing more particulates from the bag to fall heavier on certain points of the coin corresponding to the angle of tilt while the coin toned.

Fireball

This group of coins have a fiery look to them and are similar in nature to the way they toned to the greenies except they toned in a different level of humidity. These are some of the most striking examples of Toned Morgans but there are not many out there.

End Roller

Morgans stored in paper coin-rolls with the ends of the rolls folded in over the coin at the end of the roll developed this striking toning pattern. Haze is common on these and real monsters with end-roll toning are exceptionally scarce as vibrant colors are not common on them.

---

Sunset

This toning falls into the pastel spectrum. Many of these develop a look similar to what many describe as a tropical beach sunset. Most are very lustrous because the patina is not as thick as deeper spectrum toned Morgans.

Textile

Morgans stored in canvas bags that were super-close or touching the actual bag toned with a matching pattern of the textile on the bag. This pattern is extremely desirable and exceptionally heavy textile is exceedingly rare.

Proof Style

Some Morgans are prooflike and some collectors stored their examples of these alongside their other proof coins in tissue paper to protect the surfaces. This tissue paper had impurities that toned the coins a certain way. Super Rare!

---

Album/Envelope

Coins stored in albums and envelopes are 99% dual sided toning. Similar colors on both the obverse and reverse blend into and towards the center. This group is rare with good luster and are usually dominated by earthy tones.

Stormy

These are Morgans with a steely blue and and muted magenta colors are common enough for me to include them here as a particular group. These coins are generally pretty but usually low-end as the color is not very vibrant.

Variegated

This type of toning is exactly as it is named. The colors are varied and flow across the surface in strange patterns. Many are caused by textile patterns from the corner of the bag with threads apparent on the surface.

---

Characteristics that make all the difference when buying Toned Morgans
Back to Top

1. Color (Rarity of Color)
Obviously, color is a VERY important consideration when buying toned coins. However, certain bands of the spectrum are incredibly rare to find in copious amounts on a Rainbow Morgan. Green, Pumpkin Orange, Magenta and Royal Blue are very desirable colors. Not necessarily those colors on the same coin though. The deeper down the color spectrum the colors on the coin are from, if the luster is still prominent, the more rich the colors typically appear and therefore have more eye appeal and presence which make them more desirable.

---

2. Pop Factor
Pop represents how well the color "jumps" off the coin. This has alot to do with the type of surface as well but you will know color that pops when you see it. The best examples will appear to be luminous.

---

3. Surface Types
This really is not an aspect that is positive or negative but there are four different surface types: Velvety, Prooflike, Bowl (rare), and Cartwheel. The 1880-1887 New Orleans mint coins generally have a velvety color appearance. The San Francisco mint produced mainly Cartwheel type but this mint also produced the majority of Prooflike, Bowl (rare), and Cartwheel luster Morgans. Deep Mirror Prooflike Monsters are extremely rare. Prooflike and bowl luster examples are by far the most difficult to image and images of these coins using a scanner produce nearly black looking images because of the reflectivity of the surfaces.

Cartwheel = Rolling luster that flows in bands across the surface from one end to the other and it twirls as you spin the coin in the light like the spokes of a cartwheel.

Velvety = The vast majority of toned morgans are of this surface type. While attractive and colorful, the velvety nature of the surface stifles the "Pop" factor.

Prooflike and Deep Mirror Prooflike = flat mirrors in the field from a fresh or freshly polished die that have no curve in them out towards the rim.

Bowl = curved mirrors (like a bowl) up to the edge of the coin. This type appears like a hybrid of Cartwheel and Prooflike surface types and is quite striking in appearance.

| | |
| --- | --- |
| Cartwheel Luster | Velvety Luster |
| Prooflike Luster | Bowl Luster |

---

4. Surface Preservation
Contact marks are distracting. Some more than others. However, nothing draws attention away from a coin's color like heavy abrasions in the wrong spot. Non focal areas are fine to have some light marks but really heavy marks tend to make toned morgans less desirable to me.

---

5. Haze
Toning is NOT oxidation. It is Silver Sulfide Film. Haze is Silver Oxide. Plain and simple. Not all toning is beautiful and frequently beautiful toning is blanketed by an semi-translucent hazy film over the color. I have seen coins I would have considered to be monsters if they did not have an ugly overlay of haze. So, when buying high-end toned morgans, always consider haze and try not to buy hazy toners. They will usually be cheaper and images can hide haze well that they eye notices immediately.

---

6. Textile
Textile is a pattern in the toning that conformed to the canvas bag the coin spent nearly a century inside. Depending on the ferocity of the pattern on the coin, textile can add multiples to the value of the coin and usually is what pushes the coin from being a high-end toner into the Monster group. Textile is extremely desirable and quite rare but you can still pick up textile coins in the low-end category for very reasonable prices.

---

7. Obverse or Reverse
Which side the toning is on makes a HUGE difference. There are more reverse toned coins out there with beautiful color because the surface is flatter than the obverse. There is less elevation between the fields and highest points of the design which results in a smoother gradient of the particular band of the spectrum to flow across. There are hundreds of reverse toned Morgans out there that I immediately get disappointed at when I see them because I want that color on the obverse where it flows around Libertys face. Reverse toned morgans sell for less than half of similarly toned obverse toned counterparts.


Case in Point: Which One Do You Like More?

Reverse Toner

Obverse Toner

If this color were on the obverse, it would be worth at least double as it is with the color on the reverse. This coin would be a monster if the color were on the obverse.
This color is similar but not quite as nice as the reverse toner but since the color is on the obverse, the demand for this coin is much greater therefore making it more valuable.

---

8. Is it Real?
Buy coins graded by PCGS or NGC. Don't go chasing raw coins on ebay until you KNOW what you are doing. You WILL lose alot of money buying "great deals" on eBay and you won't even realize it until you try to sell to a knowledgeable dealer. There are alot of artificially toned coins out there, some in NGC and PCGS holders. Learn the ropes by viewing as many nicely toned morgans as you can before committing to a coin you suspect may be artificial. I have an extensive section of this page dedicated to pointing out AT coins below.

---

9. Uniqueness
Some coins will have a strange uniqueness to them that is universally appreciated by toned morgan enthusiasts. Examples like a double crescent creating a "Cat's Eye" pattern are worth more because of a striking pattern. Target toning is usually from albums, envelopes, or coin cabinets and adds value to the color. Anything that adds to the eye appeal adds to the demand for that toner. Anything that detracts from the eye appeal reduces demand for that toner.

"The Southern Cross" is a great example of this quality. The coin is named so because when you tilt it into a diffused light source, the image of an upside down cross is VERY evident. It is difficult to see in a regular photograph but jumps out at you via a diffusion photograph. This also is a good example of how coins can look different using different photography methods.

---

10. Grade
The pricing for toned morgans is not linear or directly related to a coin's grade. An MS64 morgan dollar can be worth 10 times more than an MS67. However, superb color on a technically perfect coin will be worth vastly more than the same color on a coin with distractions/contact marks, or strike quality associated with lower graded coins.

Naturally Toned (NT) vs. Artificially Toned (AT)
Back to Top

1. Color

You know, color is an obvious way to tell if a Morgan dollar is NT. That goes without saying. The typical color progression for bag toned Morgan dollars is: Peach/Orange --> Powder Blue --> Bright Yellow --> Magenta --> Royal Blue --> Emerald Green --> Burgundy (darker magenta) --> Deep Teal --> Plum --> Charcoal. Doug Kurz has also developed a color chart denoting the color progression of a silver-sulfide thin film interference. This chart is more advanced than my above color progression gradient and will help you determine if those really WILD Morgans that may be suspect to you might in-fact be AT.

You can read the entire article explaining this chart in great detail authored by Doug Kurz (Sunnywood) and compiled by Brandon Kelley.

After you have seen enough naturally toned Morgan dollars, you will develop a sense of what is natural and what is artificial. You will develop a "spidey-sense" that triggers a "something just isn't right" feeling whenever you see an artificially toned Morgan dollar.

There are unlimited variations of the thickness of these bands in the color spectrum. Some color bands completely cover the obverse in a monochromatic "look". This is when the thickness of a particular band of color covers the entire side:

This color progression should exist in some way shape or form in a naturally toned Morgan dollar. It's like the coral snake vs. the king snake. They look similar but the pattern of colors from the old saying "Red on Black Venom Lack" and "Red on Yellow Kill a Fellow". Both snakes have the same colors but the pattern of color determines which one can scare you and which one can kill you.

| | |
| --- | --- |
| Coral Snake - Deadly | King Snake - Harmless |

Popular colors on Artificially and Intentionally toned coins are:

Excessive Blue/Magenta/Purple/Burnt Orange hues in billowing shades that do not gradient evenly. This is created by heating nickel or by adding a sulfurous compound to the surface. You can recreate this by crushing up the yolk of a boiled egg and keeping it in a container with the coin for less than 30 minutes. It is obvious, even to the Toned Morgan Rookie.
Bands of color with excessive Pink/Purple hues or colors that simply do not look natural to someone armed with the experience of seeing lots of naturally toned Morgans.
Sick and pale shades of green blending with pink are a sad attempt to recreate the rare green color band but these are easily distinguishable from NT coins by focusing on the other characteristics of NT coins and just from the inconsistencies in the shade and layout of the color on the coin.
I personally have not seen any artificially toned Morgans that had all of the proper characteristics but there is no guarantee there is not at least one out there. This article is a guide that is designed to help you identify artificially toned coins. There are those out there who believe all toned Morgans are artificial. That is absurd. If someone could tone Morgan dollars into Monster Toners, there would be more of them out there and their pedigreed history would not exist.
Artificially toned Morgans will also tend to continue toning since the accelerated methods used to create them is not stable. Needless to say, if a coin has been slabbed 10 or even 20 years ago in the first generation PCGS and NGC holders and it looks the same as it did the day it was encapsulated, odds are good that the coin is naturally toned. Inversely, if a coin has been slabbed 5 years ago and the color is fading, deepening, or otherwise different from when the coin was encapsulated, odds are good that the coin was artificially toned.

Some AT examples:

I will be adding more examples here as I find them. From the images I will be adding over the next few months, we should be able to collectively identify patterns of certain doctoring techniques and avoid them and show others what to avoid.


You can see the billowing blue, purple, and burnt orange flowing across the surface indiscriminate of the elevation of the detail. Just the color alone is a dead-giveaway. Horrible AT

This one is a little better showing a touch of elevation chromatics but take note of the cleaned surface and the massive amounts of burnt-orange, blue, and purple. These shades should not appear in this progression.

---

Here is another one similar to the one at the top-right. This image shows a coin with several problems. It is raw and cleaned which you can see by the hairlines in the field. The spectrum on this coin is Orange-Pink-Purple-Royal Blue-Light Blue. This is NOT the proper color spectrum of Peach-Light Blue-Yellow-Magenta-Royal Blue-Emerald Green. Additionally, the little piece of foreign material on the top cotton ball has a bright halo around it. That may be an indication of accelerated toning. On a suspected AT coin, if it has this "feature", that is another mark against the coin being natural.

---

Ugh. If the fact that the coin is probably a VF and is raw doesn't raise a red flag, take a look at the pastel band of color flowing around the rims. You can see how the color does not care what elevation of detail it is at. It just flows right over PLURIBUS UNUM like it wasn't there.

---

2. Pullaway
It's a relatively new term to folks who have not dabbled in Toned Morgans before. Illustrated below is an example of pullaway effect. When a Morgan dollar is struck, the metal is pushed into the design on the die. Near the edges, the metal is being moved quite a bit and this stretching and pushing around the design out to the rims elongates and linearizes the metal restricting it's ability to patinate the way the other metal has around it. A toned Morgan with this characteristic is almost undoubtedly naturally toned as AT and IT methods use accelerated methods to achieve color will generally not display this characteristic. However, just because a Toned Morgan does not have the pullaway effect, does not necessarily mean the coin is artificially toned and inversely, just because a toned morgan exhibits pullaway, does not mean the coin is NT. However, if it does have pullaway, odds are good it is NT but do not let that be the only factor you check when determining AT/NT.

The vast majority of NT coins have pullaway
Not all NT coins have pullaway
Pullaway on AT coins is nearly non-existant
Coins with pullaway are NEARLY ALWAYS NT

Now, I have seen examples of AT coins that have pullaway. However, docs have gotten wind of this characteristic and will buy coins that have some natural toning on them with the pullaway and apply AT or IT processes to put more color on the coin. Always be wary of your AT spidey sense. If you see enough naturally toned morgans, when you see an AT coin, a red flag will go up in your mind and you will know it is AT. Develop this sense and you will be fine. Ignore it, and you will eventually buy an AT coin.

---

3. Elevation Chromatics
Yes, this is a strange term even to those who have been around Toned Morgans for awhile. The reason for this is that I have just coined the term in this webpage. This term refers to how the color progression sits on the coin over different elevations. Artificially toned (AT) coins and Intentionally toned (IT) coins will have a different look to the color that alot of people will notice as strange. Here are two examples of elevation chromatics:

You can see in "LIBERTY" how the lower elevation of the surface is toned in a magenta color while the higher elevation of the coronet around it is toned in a turquoise green. This is elevation chromatics. The vast majority of AT coins will not display this quality and it is a good benchmark to note when determining NT vs AT.

Again, you can see how the stars are pink/peach while the field around them flows from blue-green on the left to chartreuse on the right. This is a perfect example of elevation chromatics.

Examples of Toned Morgan Dollars of Each Price Range
Back to Top

(These are estimates, no toned Morgan price is set in stone so if you bought one that looks like it is from a lower price range than what you paid and you like the coin, don't get upset or down. You love the coin, wasn't that the main factor when you bought it? Remember, these are just my approximations with an honest margin of error with individual cases.)

Low-End $40-$150
Low-Mid $100-$200
Mid $150-$300
Mid-High $250-$1000
High $850-$4500
Monster $4000-Sky's the Limit

Highest Price Paid for a Monster???
I know of one for sure that sold for well over $30,000.00 but I didn't sell it.
However, it is in the gallery above.

Low-End Toned Morgan #1

Low-End Toned Morgan #2

---

Low-End Toned Morgan #3

Low-End Toned Morgan #4

---

Low-End Toned Morgan #5

Low-Mid Toned Morgan #1

---

Low-Mid Toned Morgan #2

Low-Mid Toned Morgan #3

---

Low-Mid Toned Morgan #4

Low-Mid Toned Morgan #5

---

Mid Toned Morgan #1

Mid Toned Morgan #2

---

Mid Toned Morgan #3

Mid Toned Morgan #4

---

Mid Toned Morgan #5

Mid-High Toned Morgan #1

---

Mid-High Toned Morgan #2

Mid-High Toned Morgan #3

---

Mid-High Toned Morgan #4

Mid-High Toned Morgan #5

---

High Toned Morgan #1

High Toned Morgan #2

---

High Toned Morgan #3

High Toned Morgan #4

---

High Toned Morgan #5

Monster Toned Morgan #1

---

Monster Toned Morgan #2

Monster Toned Morgan #3

---

Monster Toned Morgan #4

Monster Toned Morgan #5

---

Heritage Galleries Auction Results for Rainbow Morgan Dollars
Back to Top
You may recognize some of the coins from the above list.
---
Articles on Toned Coins For Additional Research
Back to Top
Physics of the Toning Progression of Rainbow Morgans - This article by Doug Kurz delves into the physics of Thin Film Interference and how the human eye perceives the colors radiating off the surface of a nicely patinated Toned Morgan dollar. Put your thinking caps on and pull out those old high-school physics textbooks and enjoy!
Hello Yellow (Yellow-Gold Toning Spectrums) - This article addresses the different and varying yellow and gold toning spectrums of Rainbow Morgan dollars. (Doug Kurz - Sunnywood)
Sunnywood Toning Classification System - Doug Kurz has developed a classification system for Toned Morgans based on the spectrum produced by the thin-film interference phenomenon caused by the thickness of the silver-sulfide film (patination) on Toned Morgans. While not widely used by toned coin enthusiasts, this classification system is extremely helpful in understanding the toning progression of Rainbow Morgan dollars. It is also a useful chart to determine if your coin is artificial by not following the proper color progression.
The Basis of Collecting and Appreciating Naturally Toned Coins Part 1 - Almost all sophisticated collectors of U.S. coins have a very strong preference for natural toning, as opposed to coins that have been artificially toned, doctored, or dipped in brightening chemical solutions. As more and more rare coins are becoming subject to such deliberate, artificial modifications, this issue is crucial and needs to be urgently addressed. (Sean Reynolds - Coinlink November 11, 2009)
The Basis of Collecting and Appreciating Naturally Toned Coins Part 2 - focusing on the connection between natural toning and the greatest collections, I emphasize the tradition of strongly preferring naturally toning, and I point out that naturally toned, 19th century coins are often not expensive. (Sean Reynolds - Coinlink November 17, 2009)

The Basis of Collecting and Appreciating Naturally Toned Coins Part 3 - Maintaining that the case for strongly favoring naturally toned coins goes beyond collector opinions and tradition. There have always been logical reasons for determining that coins with natural toning and/or mostly original surfaces are superior. (Sean Reynolds - Coinlink Monday, December 7, 2009)