Need to contact us quickly? Send us an email by Clicking Here.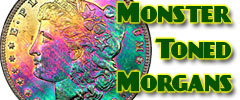 View the largest gallery of high-end and Monster rainbow toned Morgan dollars, an informational guide on how to tell natural vs. artificial toning, learn to price toned Morgans, view auction results of rainbow Morgans, and view what characteristics to look for in high-end toned rainbow Morgan dollars.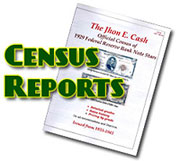 Lost? Find your way with the sitemap with links to all the pages on this website. Sitemap



Here you can find interesting articles, videos, and research tools for coins and currency. We are constantly adding more links and articles to enlighten collectors. Click Here


Click here for a how-to guide for JhonECash.com. The site is very user friendly and you may not even need to use this page but if you do, it's right here waiting for you.


Click Here for answers to ALL of your questions regarding Payment, Shipping, How to Order, How to Use the Website, and More...




Homepage - This is exactly what it sounds like. It's the main page of the entire website. Here you have access to both currency and coin links along with teasers of our blogs, news, and show reports. It's a great starting point.

---

Client Want Lists - View our clients' want list items and contact us if you have any of the items listed. This is a valuable tool that gets a lot of people hunting for what you want. It also gets us a list that we can print out and bring to shows. You won't be disappointed if you get your want list set up here.

---

eBay Store - View our ebay store but remember, everything is listed at roughly 10% cheaper on our website. We offer weekly auctions and some ebay only blowout deals. Also, it's a great place to market this website.

---

Your Account - Here is your own personal control center. Track orders/invoices, manage your current offers, update your want list, manage your preferences and view your purchases.

---

Currency Main Page - From here you can see current news about the currency market, Jhon's blogs, browse the currency categories, search currency, access the currency archives, view new currency purchases, featured notes, and blowout notes. This is pretty much THE homepage for currency lovers.

---

Currency Census - Here you can purchase the 1929 FRBN Stars, $500 / $1,000 Stars, and $5,000 / $10,000 Notes currency census reports created by Jhon.

---

Currency Archives (Sold Inventory) - Here is where you can browse the notes that we've handled in the past. None of the notes in this part of the site are available for sale.

---

Currency Grading Standards - Here is an overview of the currency grading standards generally accepted in the current market.

---

Coins Main Page - Here is where you can news and show reports relating to coins, Brandon's blogs, browse the coin categories, search through our listed coins, view sold coins in the archives, check out new coin purchases, featured coins, and blowout coin sales. If you're into coins, this is your ultimate homepage.

---

Coin Grading Standards - This page presents an overview of the coin grading standards accepted by the numismatic community based on the Sheldon scale.

---

Coin Archives (Sold Inventory) - None of the coins here are available for sale but they are fun to look at. These are coins that we have handled in the past.

---

About Jhon E. Cash Currency, Coins, and Collectibles - Get to know Jhon and Brandon here.

---

How to Consign (Consignment Forms) - Everything you wanted to know about consigning your coins or currency to us lies here. You can download consignment forms as well.

---

FAQ's (Frequently Asked Questions) - We are continually adding to this list of frequently asked questions to help aid you with utilizing all of the features on our website.

---

News / Show Reports / Blogs - View news and show reports related to both coins and currency and enjoy the blogs of both Jhon and Brandon. Search features allow for keyword searching and they are indexed by month.

---

Research - Here's where the fun really begins. View tons of articles compiled by Jhon and Brandon relating to both coins and currency. View streaming video in our online theatre. We have some amazing videos about how money is made here in the US that any numisma aficionado would find interesting. Utilize the Early Commemoratives research tool and search through the digitized US Patterns Judd Book.

---

Website Statistics - View a US and World map of the current and past 100 visitors to our website. See total site hits and where they are coming from. This is a cool tool.