Need to contact us quickly? Send us an email by Clicking Here.


Click Here to view all of the currency that we've sold since the website was launched in January 2010.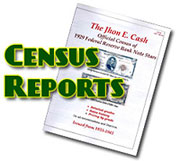 -1929 FRBN Star Notes
-$500 / $1,000 Star Notes
-$5,000 / $10,000 Notes





If you want to chat with other collectors and dealers, visit the Collectors Universe Currency Forum
The Bureau of Engraving and Printing's (BEP) takes you to the official government site of the BEP for some interesting information and facts on all of our US currency.
US Papermoney will take you to a site that is full of information on everything you ever wanted to know about our US currency. Almost everything anyway. Very cool site!
The American Numismatics Association (ANA) is a professional organization for those who want to further learn about US coins and currency.
PMG and PCGS are the only two TRUE independent currency-grading services available. I highly recommend these two companies for those of you who want to get their currency certified and graded for insurance purposes or simply, a peace of mind.

(SOLD)

Fr.-851a* 1914 $5 FRN Star Ser. # B1918135* PMG CH-63

This is a very clean example of the 1914 $ FRN from the New York district. This notes has no rips, tears, pinholes, folds or marks. It is a true UNC note. The only thing that keeps out from the GEM status is the front top margin. ...

Added: 1/1/2010
Views: 4500
Price: SOLD


Fr.-879a* 1914 $5 FRN Star (8 known) Ser. # I209401* PMG VF-25

SALE!
$1,950
13% Off

This is a very rare FR-879a*, or a 1914 $5 FRN star from the Minneapolis district. The serial number is I209401*. There are only 10 known to exist. It resides in a PMG-25 holder with NO rips, tears, o...

Added: 1/1/2010
Views: 4440
Price: $2,250.00

Fr.-88* 1907 $5 Legal Tender Star Ser. # *800855B PMG F-15

SALE!
$1,875
35% Off

This is a 1907 Legal Tender star or a Fr.-88* Type 1, with only 6 known. Type 1 is described as when the plate number 577 on the bottom left side is "below" the plate letter C. You will notice the pl...

Added: 1/1/2010
Views: 4424
Price: $2,875.00

Fr.-88* 1907 $5 Legal Tender Star Ser. # *1055863B PMG VF-25

Here is a star note you dont see too often. Its the FR-88* or a 1907 $5 Legal tender star note. this note is sometimes referred to as the Pioneer Family or Woodchopper Note. This is a type 1 note. Although circulated there are no rips, tears pr pinholes....

Added: 1/1/2010
Views: 4428
Price: $1,450.00

(SOLD)

Fr.-88* 1907 $5 Legal Tender Star Ser. # *831224B PMG VF-20

This is a 1907 $5 Legal Tender star or a Fr.-88* Type 1, with only 6 known according to Doug Murrays new book US Large Size Star Notes. It list for $1400 in VF, when you find one! Type 1 is described as when the plate number D670 on the bottom right side ...

Added: 1/1/2010
Views: 4489
Price: SOLD

Fr.-91* 1907 $5 Legal Tender Star Ser. # *2323379B F/VF

This is a cool Fr-91* or a 1907 $5 legal tender star note. although it is circulated there are no rips, tears, pinholes or missing pieces. It has never been cleaned or pressed. Check the scans. The serial number is *2323379B. This note is commonly refered...

Added: 1/1/2010
Views: 4427
Price: $425.00

7 Notes Found
Page: 1