Need to contact us quickly? Send us an email by Clicking Here.


Click Here to view all of the currency that we've sold since the website was launched in January 2010.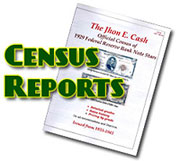 -1929 FRBN Star Notes
-$500 / $1,000 Star Notes
-$5,000 / $10,000 Notes





If you want to chat with other collectors and dealers, visit the Collectors Universe Currency Forum
The Bureau of Engraving and Printing's (BEP) takes you to the official government site of the BEP for some interesting information and facts on all of our US currency.
US Papermoney will take you to a site that is full of information on everything you ever wanted to know about our US currency. Almost everything anyway. Very cool site!
The American Numismatics Association (ANA) is a professional organization for those who want to further learn about US coins and currency.
PMG and PCGS are the only two TRUE independent currency-grading services available. I highly recommend these two companies for those of you who want to get their currency certified and graded for insurance purposes or simply, a peace of mind.

Fr.-1225h 1900 $10,000 Gold Certificate Ser. M59737 PCGS-65
(Open Original Image in New Window)
(Open Original Image in New Window)

| | |
| --- | --- |
| On Sale Now: $8,600.00 | 7% Off Retail: $9,250.00 |
This is one of those very special notes that come along every so often. This is a Fr.-1225h or a 1900 $10,000 Gold Certificate with serial number M59737 and resides in a PCGS-65 holder. I have owned many of these notes but I have only had a few that had no water damage. Most of these gold certificates displayed water damage on the front and most notably on the back from the fire in 1935. Quite a few of them have been cleaned and pressed to make the more presentable for collectors. This is a perfect example of one that has NO water damage or has never been cleaned or pressed It is totally original as the day it was printed. The front faces up like a gem note with perfect margins and a bright small ruby red scalloped seal. If you are looking for a superb example that won't set you back $10,000, consider this rare example.
History of the 1900 $10,000 Gold Certificate: All 1900 bills ($10,000 denomination only) have been redeemed, and no longer have legal tender status. Most were destroyed, with the exception of a number of 1900 $10,000 bills that were in a box in a post office near the U.S Treasury Dept. in Washington, D.C. There was a fire on 13 December 1935, and employees threw burning boxes out into the street. The box of canceled high-denomination currency burst open. Much to everyone's dismay, they were worthless. There are several hundred outstanding, and their ownership is technically illegal, as they are stolen property. However, due to their lack of intrinsic value, the government has not prosecuted any owners, citing more important concerns. They carry a collector value in the numismatic market and, as noted in Bowers and Sundermans' The 100 Greatest American Currency Notes, the only United States notes that can be purchased for less than their face value. This is the only example of "circulating" U.S. currency that is not an obligation of the government, and thus not redeemable by a Federal Reserve Bank. The note bears the portrait of Andrew Jackson with a small red scalloped seal and has no printed design on its reverse side.
This Note Has Been Viewed 3939 Times

Call 1-214-769-9936 for Jhon
Email jhon@jhonecash.com for Jhon
If you are having trouble viewing the images above, please install the Active X control (Adobe Flash Player) that pops down from the URL bar in your browser.