Need to contact us quickly? Send us an email by Clicking Here.


Click Here to view all of the currency that we've sold since the website was launched in January 2010.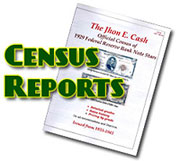 -1929 FRBN Star Notes
-$500 / $1,000 Star Notes
-$5,000 / $10,000 Notes





If you want to chat with other collectors and dealers, visit the Collectors Universe Currency Forum
The Bureau of Engraving and Printing's (BEP) takes you to the official government site of the BEP for some interesting information and facts on all of our US currency.
US Papermoney will take you to a site that is full of information on everything you ever wanted to know about our US currency. Almost everything anyway. Very cool site!
The American Numismatics Association (ANA) is a professional organization for those who want to further learn about US coins and currency.
PMG and PCGS are the only two TRUE independent currency-grading services available. I highly recommend these two companies for those of you who want to get their currency certified and graded for insurance purposes or simply, a peace of mind.

Fr.-1197 1882 $50 Gold Certificate Ser. H1264198 PMG EF-40 EPQ
(Open Original Image in New Window)
(Open Original Image in New Window)

No Longer Available
| | |
| --- | --- |
| | |
This is one of my favorite all time Gold Certificate. It is an 1882 $50 Large Size Gold Certificate. The front features a bust of Silas Wright, 1795-1847. He was a contemporary figure in government as both a US Senator from 1833 to 1844 and also the Governor of New York from 1845 to 1847. Wrights portrait was engraved by Charles Burt from a painting by Alonzo Chappell. I have owned a few of these 1882 $50 Gold Certificates over the years but never one quite like this one. This example is in a stunning state of preservation. It is totally original with embossing and superb wide margins. The red seal has never been cleaned as so many have. The back is impeccable with marvelous example of the famous burnt-orange color that Gold Certificates are known for. Check out the large even margins. It is graded as a PMG XF-40EPQ. You do not come across 1882 $50 Gold certificate with the EPQ designator very often. Check around. This note was purchased from a long time serious collector from Chicago in the past CPMX currency show in March of 2011. It is from the famous Dr Pete collection. PMG has graded 60 Fr.-1197's with only 13 graded with the EPQ. There are two PMG-66EPQ notes and one PMG-55EPQ note and then this one as a PMG-40EPQ. This is the third finest 1882 $50 Gold Certificate PMG EPQ graded note known. This is a real prize for all Large Size Gold certificate collectors. This note will not last long.
This Note Has Been Viewed 4121 Times

Call 1-214-769-9936 for Jhon
Email jhon@jhonecash.com for Jhon
If you are having trouble viewing the images above, please install the Active X control (Adobe Flash Player) that pops down from the URL bar in your browser.