January 2010
February 2010
March 2010
April 2010
May 2010
June 2010
July 2010
August 2010
September 2010
October 2010
November 2010
December 2010
January 2011
February 2011


Need to contact us quickly? Send us an email by Clicking Here.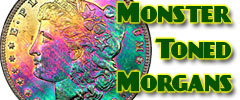 View the largest gallery of high-end and Monster rainbow toned Morgan dollars, an informational guide on how to tell natural vs. artificial toning, learn to price toned Morgans, view auction results of rainbow Morgans, and view what characteristics to look for in high-end toned rainbow Morgan dollars.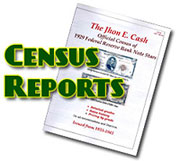 Lost? Find your way with the sitemap with links to all the pages on this website. Sitemap



Here you can find interesting articles, videos, and research tools for coins and currency. We are constantly adding more links and articles to enlighten collectors. Click Here


Click here for a how-to guide for JhonECash.com. The site is very user friendly and you may not even need to use this page but if you do, it's right here waiting for you.


Click Here for answers to ALL of your questions regarding Payment, Shipping, How to Order, How to Use the Website, and More...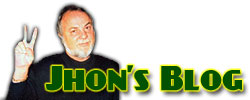 6/1/2010 - PCGSPCGS has recently announced that they are filing suit against coin doctors. You can download the legal filing here

From PCGS:

- May 28, 2010 (Santa Ana, California) - Professional Coin Grading Service (PCGS) today revealed additional steps it is taking to improve its ability to detect altered coins. PCGS announced that it has a process in development which will detect any foreign substance on a coins surface, and also announced a major lawsuit filed against alleged coin doctors.

According to PCGS officials, in conjunction with the development of coin recognition technology launched in March of this year, PCGS has been developing a process to detect foreign materials and other enhancements to a coins surfaces. Using energy dispersive X-ray spectrometry (EDX), Fournier Transform Infra-Red Spectral analysis (FT-IR), Raman Spectroscopy and other similar analytical techniques, this detection process (code-named by PCGS the PCGS Coin Sniffer™) will analyze the surfaces of a coin in a matter of seconds to detect foreign substances and provide quantitative information about the coin. "Coin doctors" often apply numerous materials to the surfaces of coins to conceal problems with the coin, and/or alter the surfaces to improve its appearance in an attempt to artificially increase its value. The simultaneous alloy determination will further aid in the detection of counterfeits as an additional benefit.

David Hall, cofounder of PCGS and President of its parent company Collectors Universe, Inc. said, "when we launched PCGS Secure Plus featuring coin recognition technology we stated that it was just a first step in improving grading and battling coin doctoring. The PCGS Coin Sniffer™ is the next significant development in our ongoing efforts. When combined with our existing PCGS Secure Plus service, this new process will make it extremely difficult for altered coins to go undetected."

"This new process is somewhat similar to what we often see as we are going through security at an airport" said Don Willis, PCGS President. "We have already filed a patent which covers the methodology and unique techniques we are using for processing coins. The new PCGS Coin Sniffer™ process will be integrated with the help of our partner CoinSecure Inc into the PCGS Secure Plus service and will be available at no additional cost. Our targeted production implementation is by this year end, although we will be conducting live testing much before then."

Additionally, Collectors Universe, Inc. (NASDAQ: CLCT), the parent company of the PCGS, has filed a Federal Court suit in United States District Court, Central District of California, against several individuals claiming they engaged in a pattern of racketeering activity, breach of contract, conspiracy, unfair competition and fraud for allegedly submitting doctored coins to PCGS for grading on multiple occasions for a period of years.

The suit claims the dealers violated federal laws, including the Lanham Act involving interstate commerce and RICO racketeering statutes, and also alleges "unlawful, unfair and fraudulent business practices" for submitting coins that were deceptively altered in an attempt to increase their value. The Complaint states: "Defendants knew that these coins had been doctored, by themselves and/or other persons engaged by them for that purpose. Their methods included lasering the surfaces of extremely rare proof gold coins to remove surface imperfections, building up commonly-worn or weakly-struck portions of coins, and other physical and chemical processes. Defendants represented to PCGS that these coins had natural surfaces, intending to deceive PCGSs graders so that the doctored coins would be certified by PCGS and then sold in the rare coin marketplace."

The suit claims the "Defendants have caused, and are continuing to cause, substantial and irreparable damage and injury to Collectors Universe and to the public and Defendants have benefited from such unlawful conduct and will continue to carry out such unlawful conduct and to be unjustly enriched thereby unless enjoined by this Court."

As many as 10 other defendants could be added to the Complaint. Collectors Universe is suing for triple damages as well as all profits made through these deceptive submissions.

"Every owner of a PCGS coin should be confident in the fact that PCGS stands behind its product guarantee 100%. Over the past 24 years PCGS has paid over $7 million under its guarantee program for coins which have developed some type of problem due to coin doctoring or some other issue," said David Hall. "Occasionally our graders have been deceived by the very clever application of foreign substances only to have these substances eventually spoil the coin and necessitate our buying it back. We believe we have compelling evidence against several individuals who, working together and separately, have made a business out of this practice. And we hope to develop evidence against others whom we believe either engaged in doctoring or conspired to profit by it. We hope the courts will provide a suitable remedy to this problem."

"We firmly believe coin doctoring to alter a coins appearance is clearly illegal under the law", Hall continued, "and we know that it often ruins coins long term and certainly deceives grading services and future coin buyers. Todays announcements of the development of scientific doctoring detection and also the lawsuit filed against alleged coin doctors is another big step in the anti-coin doctoring process, but we will not be finished until we eliminate this unsavory practice once and for all."


6/2/2010 - Jhon is about to go on a 45-60 day road trip across the country with his family. This is an annual event that will not affect the business activities of Jhon E. Cash, Currency, Coins, and Collectibles website. I am still here for you to contact so you can be sure your experience with us will not be affected. I am also creating a road trip blog for Jhon to post pictures and his daily blog during their trip. You will be able to follow him around the country. It will be something I am sure you will enjoy.
6/2/2010 - I am currently working on a cool new toy for the site. If you like trivia, get ready for some fun and education. I am compiling a list of trivia questions that cover Numismatics, Sports, American History, and a touch of Pop-Culture. I have the script ready to go and as soon as I have 100 trivia questions written out, I will post it live. If you have a Jhon E. Cash account, you can even track your progress.